Sundar Pichai Explains Why Trump's Photo Comes Up When You Google 'Idiot', And It's Hilarious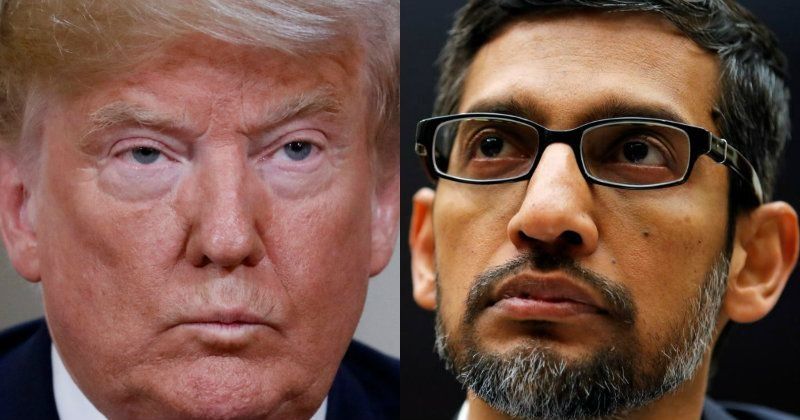 Google CEO Sundar Pichai appeared in front of a bunch of US lawmakers to answer some "tough" questions on the search engine giant's handling of user data and expansion plans in China.
Hilariously enough, one of many questions asked to Sundar Pichai was why US President Donald Trump's photo appears whenever someone Googles the word 'idiot'. US Congressman Steve King wanted to know how a mean picture of him ended up appearing on his seven-year-old granddaughter's iPhone. "How does that show up an iPhone," he went on to ask Sundar Pichai. Google CEO's response? "Sir, the iPhone is made by a different company." King then said it might have been an Android or a hand-me-down of some kind. Wait, what?! He didn't show it, but I'm sure Pichai was laughing deep down inside, not believing the questions he was being asked.
An all-female flight crew makes history in Mozambique
It is a historic day: that is how many Mozambicans regard December 14, 2018, when, for the first time in the country's civil aviation history, an airplane was operated solely by women. The crew for flight TM112/3, which traveled between the capital, Maputo, and Manica — an air distance of 442 miles — was captain Admira António, co-pilot Elsa Balate, cabin chief Maria da Luz Aurélio, and flight attendant Débora Madeleine. The women are members of MEX, an entity originally created as the Special Operations Department of LAM — Linhas Aéreas de Moçambique. In 1995, it began operations as an independent airline, Mozambique Express.
No one can 'dictate' to China what it should, shouldn't do: Xi Jinping
BEIJING: President Xi Jinping vowed Tuesday to push ahead with China's "reform and opening up" but warned that no one can "dictate" what it does, as the Communist Party celebrate the policy's 40th anniversary. While he pledged to press forward with the economic reforms initiated under late paramount leader Deng Xiaoping in December 1978, Xi indicated that there would be no change to the one-party system. "The great banner of socialism has always been flying high over the Chinese land," Xi said in an in a speech at Beijing's imposing Great Hall of the People".
Oxford report confirms Russia sullied Donald Trump election through social media
WASHINGTON: Russia used nearly every social media platform in the United States to drum up support for Donald Trump in the 2016 election, a new Oxford University report has said, confirming the widespread assessment, including by America's own intelligence community, that his journey to the White House was sullied. The report by Oxford University's computational propaganda project and network analysis company Graphika, which will be presented to the Senate intelligence committee, analyzed more than 10 million tweets, 116,000 Instagram posts, 61,000 Facebook posts and 1,000 videos posted by the Russian government-linked internet research agency (IRA), in arriving at its conclusions.