In Chhattisgarh, under the leadership of Chief Minister Bhupesh Baghel, along with promoting Chhattisgarhi culture, civilization, and folk art, efforts are on to give recognition to primitive culture and art at the world level. The National Tribal Dance Festival to be organized in Chhattisgarh is also a part of this episode. This is the third event of the National Tribal Dance Festival in Chhattisgarh, in which tribal community people from different states of the country including Chhattisgarh and from abroad gather in Raipur, the capital of Chhattisgarh, to spread the hue of their traditional art and culture. This time, along with Rajyotsav, this event is being organized from November 1 to 3 at the Science College ground in the capital Raipur. This time too many tribal groups will arrive with tribal folk dances synonymous with their identity and performed on special occasions.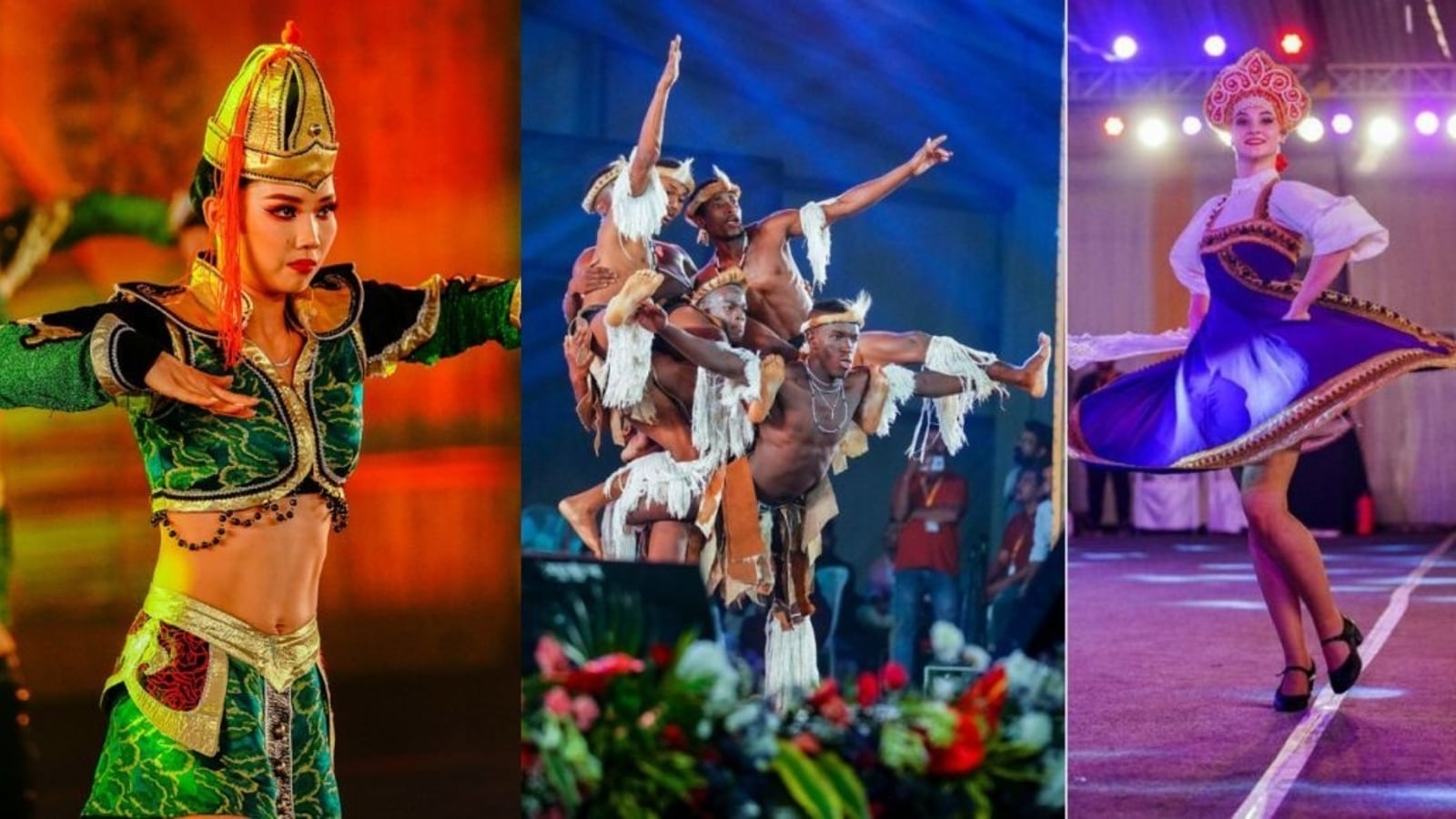 Here are the details related to some of the special dances that take place during the event:
Dandami Madiya Dance
Chhattisgarh: Dandami Madiya dance of Bastar is known as the Gaur Madiya dance. In this dance, the young men wear a crown made of the horn of an animal called gaur, kokota, which is decorated with shells and crests. The girls dancing with the boys wear a brass crown (tige) on their heads and hold a Gujari Bagdi, a stick made of an iron bar, with ghungroos attached to it, which when struck on the ground produces a mesmerizing sound.
Mao Pata Dance
Chhattisgarh: Many performing arts are prevalent in the Muria tribe of Bastar, which are very captivating and full of rhythm. Mao Pata is one such dance of the Muria tribe, in which almost all the elements of drama are also present. This dance is also called the Gaur Mar dance. Mao Pata is organized in the courtyard of Ghotul, in which young men and women participate. The dancers enter the ghotul while playing huge size drums. In this dance, Gaur is an animal and Pata refers to the story, in which the traditional hunting of Gaur is displayed. Beautiful garlands made of vessels, cowries, and feathers of the Bhringraj bird called gelling are adorned by young men on their heads and girls adorn themselves with vessels and metal ornaments combs, and cowries. A man impersonates a gaur animal, which is hunted during the dance.
Light Dance
Chhattisgarh: Hulki dance is a traditional dance of the Muria tribe living in Kondagaon and Narayanpur district of Bastar. Both men and women are involved in this. It is believed about the Hulki dance that dance is dedicated to the Adi deity Lingopen. In this dance, songs are sung in question-answer style, in which questions and answers are given in the context related to divine beliefs, legends, and concepts of dance. The main instrument of this dance is Dahki Parrai, which is played by male dancers and women play chitkuling. Apart from this, any other musical instrument is prohibited in this dance. Traditionally, the hulki dance begins at the Yuvagruha after the Hariyali festival, which lasts for four months.
Chhau Dance
Jharkhand: Chhau dance is a popular dance form performed by folk and tribal artists in the three eastern states of India, which is full of martial arts and acrobatics. Chhau dance is named based on the respective region. Purulia Chhau in West Bengal, Seraikela Chhau in Jharkhand, and Mayurbhanj Chhau in Odisha. Out of this, masks are used on presentation in the first two types of Chhau dances, while masks are not used in the third type of Mayurbhanj Chhau.
In this dance, the stories of Ramayana, Mahabharata, and Puranas are presented on the stage by the artists. There is a major emphasis on singing and music, but the specialty of continuous instrumental music at the time of presentation remains prominent. Each subject in dance begins with a short dance song, in which the subject matter is introduced. Chhau dance is performed only by male artists. Chhau has made a special identity not only in India but also abroad based on its storyline, artist's energy, agility, and music.
Paika Dance
Jharkhand: Munda is a major tribe of Jharkhand. Apart from Jharkhand, the Munda tribe also resides in West Bengal, Chhattisgarh, Odisha, and Assam. At present, Paika dance has a special place in the performing arts of the Munda people who earn their livelihood mainly based on agriculture. Paika is a dance related to martial arts which are performed by the dancers of tribal societies like Munda, Oraon, Khadiya, etc. Only men take part in this dance. The dancers wear the clothes of warriors and carry weapons like shields, swords, etc. in their hands. The instruments used in dance are Dhak, Nagada, Shehnai, Madanbhairi, etc. Paika dance is commonly performed for wedding festivals as well as for hospitality.
Hot Dance
Jharkhand: Damkach is a popular dance of tribal and folk societies of the Jharkhand state. This dance is mainly performed on the occasion of marriage in which both men and women participate. The male class accompanies the women as singers and dancers in this dance. The bride and groom are also traditionally included in this dance. The instruments used in the Damkach dance include Dhol, Nagada, Dhak, Mandar, Flute, Shehnai, Jhanj, etc. This dance is performed starting from Devuthani Ekadashi of Shukla Paksha of Kartik month till Rath Yatra of Ashadh month.
Baghrumba Dance
Assam: Baghrumba is a famous and popular dance of the Bodo tribe of Assam. The Bodos are the largest tribal group in Assam, accounting for about 40 percent of the total tribal population there. The knowledge traditions of the Bodo tribe include many creative and performing arts, in which the Baghrumba dance has a notable place. The Baghrumba dance is performed by women dressed in festive attire. In this dance, the drum, which is called Kham in the local language, is the main instrument, which is played along with Siphung ie flute, and other instruments like Gongwana and Tharka made of bamboo. The love of nature of the Bodo people is also expressed in this dance, which can be seen in the dance compositions depicting trees, plants, animals, birds, butterflies, flowing river streams, wind, etc. in this dance.
Maryurattam Dance
Kerala: Marayurattam is a dance of the Mavilan tribe of Kerala, which is performed by the people of the Mavilan tribe living in a place called Marayoor located in the border region of Kerala and Tamil Nadu. Marayoor is in the Palakkad district of Kerala, where this dance is mainly performed on marriage ceremonies and festivals. Both men and women participate in this dance.
National Tribal Dance Festival Rootplan 2022:
National Tribal Dance Festival and Chhattisgarh Rajyotsav program is proposed to be organized from 1 to 3 November 2022 at the Science College ground of capital Raipur. These participants come from different countries and from different states of the country to participate in the program, as well as visitors from different districts of the state come to watch the program, and view the traffic police Raipur has made smooth and safe traffic arrangements. The route and parking arrangements have been determined as follows: –
Route and parking arrangements for visitors coming from Mahasamund, Baloda Bazar, Gariaband, and Dhamtari district: –
Visitors coming from district Mahasamund Balodabazar Gariaband and Dhamtari district via ring road no. They will park their vehicle in the designated NCC ground parking lot and enter the program venue on foot via the school road.
Arrangement for visitors coming from Durg Bhilai Rajnandgaon side: – Visitors coming from District Durg and Rajnandgaon via GE Road from Tatibandh Chowk to AIIMS Hospital Mahoba Bazar Chowk in front of University Gate fixed city bus depot parking lot Park your vehicle and enter the venue on foot.
Route and parking arrangements for visitors coming from Bilaspur, Bemetara, and Kabirdham: – Visitors coming from district Bilaspur, Bemetara, and Kabirdham via Bhanpuri Tiraha to Ring Road No. 2 via Tatibandh Chowk to GE Road, AIIMS Hospital, Mohba from Bazar Chowk, in front of the University Gate, park your vehicle at the designated city bus depot parking lot and NIT parking lot and enter the venue on foot.
Arrangements for visitors going to the program venue from the capital Raipur: –
Visitors coming from Raipur city and district Shastri Chowk, Jai Stambh Chowk, Ampara Tiraha Ashram Tiraha, DDU Naya Marg Tiraha, park their vehicles in the designated NIT parking and walk to the venue.
Route and parking arrangement for print and electronic media: – Vehicles of print media and electronic media coming during the above program will enter the hostel turning and parking their vehicle in the parking lot in front of Science College Major Gore Hostel and enter the venue on foot.
Route arrangement for the participants, senior citizens, public representatives, senior officials, and emergency vehicles participating in the program: – Raipura Chowk to Thakur Bar, Rohanipuram Gol Chowk to Hostel Chowk, the route for the participants, senior citizens, public representatives, and senior officials participating in the program It will be reserved for the public, therefore traffic from the said route will be prohibited for the general public. Therefore, the audience participating in the program will be able to go to the program venue through the route mentioned above.
Source: Internet