Today, Suruchi Iyer, a renowned Tanjore Artist is here with us to share her journey and life experiences. In an interview with 'Reincarnating Raipur', she revealed a lot about herself and the brand she constructed.
She has dedicated the past 25 years, to the cultural forms of art, especially focusing on Tanjore and Pichwai.
She graduated with a degree in commerce and holds a diploma in fashion design. She feels blessed to have a supportive spouse and two wonderful children.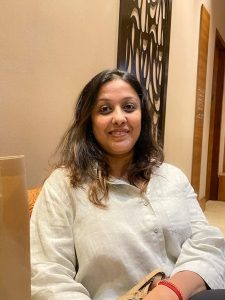 Being asked about her professional life during its initial days, she said, "The early days were full of excitement as I applied what I had learned. While there were some failures, such as finished work, not meeting my expectations, overall it was a good experience."
She further adds, "While I was always fond of art, I hadn't initially considered pursuing it as a profession. I began participating in competitions and creating paintings for relatives and friends, which eventually led me down this path."
While asked about her achievements, she replied, "I have been honored to receive an 'Artist Excellence Award' from the 'World Art Fair Awareness Foundation'. I also secured second position in an international competition organized by the 'City Art Factory' in the poster color category. Additionally, one of my paintings has been selected for display in an exhibition by City Art Factory in Paris. These achievements have validated my passion for art and inspired me to continue pushing the boundaries of my creativity."
But success never comes without challenges, and here she shared her experience, "In the initial stages, juggling multiple projects and achieving work-life balance was a challenge. However, I have since learned to prioritize tasks and improve my time management skills, making it much easier to manage both professional and personal responsibilities."
"Continuous learning, adaptability, and perseverance are three crucial factors that have played a significant role in my journey", she adds.
For beginners, who want to make it big in this field, she said, "Discipline and dedication are key to success. Practicing consistently, participating in competitions, and showcasing your work to a wider audience are crucial steps to gaining recognition and appreciation."