Meet Tarun Nachrani, an entrepreneur who identified a problem and turned it into a profitable business. Tarun realized that many people in Raipur were hesitant to eat street food and cuisines due to concerns about hygiene and the atmosphere. He saw this as an opportunity to solve a problem and provide a solution that would benefit both him and his customers.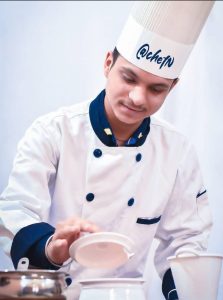 Instagram – https://www.instagram.com/letseat_raipur/
Location – Agrasen Chowk, Samta Colony, Raipur, Chhatisgarh
Available on Swiggy & Zomato
On Feb 24, 2022, Tarun opened his café, LET'S EAT, with a mission to deliver cuisines which has the quality of a café but the price of a street vendor. He understood that to make this business profitable, he had to focus on two key things: the quality of food and the cost of delivery.
Tarun's entrepreneurial mind came up with an excellent solution. He sourced top-quality ingredients and used them to prepare the food while keeping the cost of each item under 99 rupees. Despite this, he was able to maintain his profit ratio, and customers were satisfied with the quality of the food they received.
Tarun believes that consistency and patience are essential qualities that entrepreneurs must possess. He doesn't believe in motivation but instead focuses on putting in consistent hard work even if there aren't immediate results. Tarun understands that business is a long-term vision, and it takes time to see the fruits of your labour.
Tarun Nachrani's café, Let's Eat, is a prime example of how an entrepreneur can identify a problem, find a solution, and turn it into a profitable business. He understood the needs of his customers and provided them with quality street food and cuisines at an affordable price. Tarun's belief in consistency and patience has helped him overcome obstacles and achieve success in his business. If you're ever in Raipur, be sure to visit Let's Eat and experience quality street food and cuisines at a reasonable price.