When I go sleep, should contain the positive vibe that I spread around me. This is what Shweta Tiwari feels, and said while in conversation with the Reincarnating Raipur team.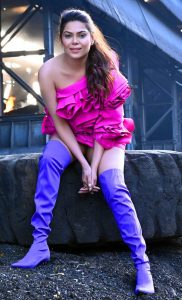 IT was in 2014 that the talented Jagdalpur-based model, Shweta Tiwari, took social media by storm after winning the Mrs. Asia International India title. Little did the city know, that she was just starting in the glamor world with her first crown. She also went ahead and won the Mrs. Andhra Pradesh in 2018 and stopped into the entertainment world with album shoots and national television.
The very congenial Shweta, along with being successful in her professional life, is also a proud mother of an 8-year-old baby girl and devotes equal time to her work and her family today.
She said, "It was a wonderful journey with lots of new experiences, learning, and meeting international contestants with a different cultures, backgrounds, and food habits with many differences. Still, we shared the same passion for making our marks in the beauty industry and standing out in the industry irrespective of being homemakers, mothers, career-oriented women. and more.
WHAT WAS THE FIRST THOUGHT THAT CAME TO YOUR MIND AFTER WEARING THE CROWN?
I had goosebumps when heard my name being announced on the stage. The sound of applause in a jam-packed auditorium has to be one of the most special moments of my life. More than my victory, I take immense pleasure in making my city proud. I will always carry share the accreditation with my home town Jagdalpur, Chhattisgarh.
WAS IT ALWAYS YOUR DREAM TO WIN A BEAUTY PAGEANT?
The tiara has always fascinated me. Since my childhood, have been interested in fashion and won prizes in school and college in beauty contests, while equally excelling at academics got married at the age of 23 and then family responsibilities naturally and happily took precedence over my dream, but the zeal of putting myself on the maps always remained afloat too
HOW DID YOUR LOVE LIFE PAN OUT? ALSO, WAS YOUR PARTNER ALWAYS SUPPORTIVE OF YOUR CAREER CHOICES?
At this moment Shweta looked at her husband, Mr. Bhaskar Tiwari who smiled gracefully and spoke. Our story was just like any other Bollywood romantic masala movie, filled with many twists and turns relating to different family backgrounds, separation for studies, and the old-school family struggles, but in the end, it all worked out considering its boon 10 years of a successful marriage and Panache is living proof.
MUST HAVE BEEN CHALLENGING TO BALANCE FAMILY AND EDUCATION.
I had just completed my graduation when I got married: I commenced my training in Pune with the Tiara Pageant and Model Training Institute by Ritika Ramtri, I was in the institute for about 2 months with my mother-in-law and o your-old baby, I don't think any family can be as supportive as my in-laws it was indeed a challenge to balance all of it together family, studies, children, and training I wouldn't lie, it did get overwhelming at times but whatever I have achieved in life today, I give the entire credit to my ever-loving husband and my supporting in-laws. There is no denying the fact that behind every successful woman, there is her entire family.
I am extremely fortunate to have a family who encouraged me during the run-up to the event whenever I was in self-doubt my husband helped me bounce back
HOW DO YOU PORTRAY YOURSELF AS A ROLE MODEL FOR YOUR DAUGHTER?
I believe in having real-life role models who are closer to reality. My mother is my inspiration and I want to set the same precedent for my daughter as well. I want her to follow her dreams and be supportive of her choices in every aspect of life.
I always try to fulfill my commitment to my family. It's amazing the way to make a balance between family. the outside world, and social responsibilities
WHAT WOULD YOU ADVISE THE FUTURE ASPIRANTS OF BEAUTY PAGEANTS?
The general notion of walking the ramp and getting the tiara served on a plate to you is a myth. There's so much that goes behind reaching that level. The extra hours of hard work, the perseverance, and the sacrifices all ultimately count.
HOW DID YOU PREPARE FOR THE MEGA EVENT?
It was a rigorous preparation for almost a year. My day started with one hour of yoga early morning followed by being informed about current affairs. I attended grooming classes which helped with my stage confidence. I learned how to maintain the physical appearance, ramp walk, and posture, and the tips to face question-answer rounds with confidence. had to regularly follow fashion updates to be aware of what was going on around the industry.
WHAT ACCORDING TO YOU IS IMPORTANT-BEAUTY OR BRAINS?
Beauty, of course, is primary in a beauty contest but brains are equally important. One obviously cannot solely win with good looks. Intelligence comes into action to maintain physical beauty, to carry oneself well, and combined with good communication skill
You can be born with a beautiful face, but being beautiful from the inside is as important. think the most important thing is to contain the desire to always improve and learn. Because, one day, no matter who you are, you will achieve your goals, if you work toward them.
WHAT ARE YOUR VIEWS ON THE SAFETY OF WOMEN IN INDIA?
It is very unfortunate that despite so much advancement be it social or technological advancement, women are still subjected to cruelty. We can't blame men alone for this Women should stop suffering in silence as well
Awareness of our rights and education is the twin formula to make India a safer place for women. Also, the empowered class must help bring about this awareness to the underprivileged so women will have the strength to at least report incidents
WHAT IS THE CRAZIEST THING YOU HAVE DONE SO FAR?
Once, when I was in Goa with my friends I was forced to jump out of the boat, almost in the middle of the sea, with my friends (poor pressure). I was equally excited and thrilled as I am a non-swimmer and have Hydrophobia. But thankfully, I came out alive!
WHEN DID YOU DO YOUR FIRST COMMERCIAL ADVERTISEMENT?
In 2015-for Lulu Supermarket Dubail went as chief guest to many other beauty pageants, boutiques, and showrooms after that. Since 2014 I did many catalog shoots, and print shoots. Tas now has done around 9 TV commercials and numerous photoshoots have done shoots with Shah Rukh Khan, Salman Khan, Kartik Aryan & Vidyut Jamwal to name a few for brands like Emami Fair & Handsome, Zandu Balm etc. SUGGESTIONS FOR PROFESSIONAL
SUGGESTIONS FOR PROFESSIONAL CAREER-ORIENTED WOMEN?
Hard work and dedication are very important for success in any field. Have a clear vision but work towards it. Just dreaming and not doing anything about it is not enough. One needs to take care of oneself which includes fitness grooming and reading. Yes, it's important to be aware of the world around you Also, drink lots of water and have only fresh food
WHAT ARE YOUR FUTURE PLANS?
We plan to do a network marketing business called Oval India which is like Vestige Network Marketing, in the future opening, a production house for the upcoming film industry is very much tempting for me.
I have been preparing for the competitions with the support of my family and am confident of winning the competition, she told us here.
HOW HAS THE LOCKDOWN AFFECTED YOUR LIFE?
Apart from the canceled travel plans, I think it has been a rejuvenating experience for me, now that have all the time in the world to be with my family, and concentrate on my physical and mental well-being. There have been certain changes in my lifestyle, but I'd like to believe it has happened for good. From doing Mat Pilates to cycling in the evening to buying groceries on my own and cooking healthy food with my daughter and playing board games with the family, it feels like a much-needed holiday.
WHAT IS THAT ONE THING THAT YOU DO NOT WANT TO CHANGE POST-COVID?
I think people should continue to take precautions when it comes to hygiene and safety. The sanitizers must persist! Also, now that we've realized the importance of staying close to our families and loved ones now, we must continue to make time from our busy schedules. At least one meal a day with your family should be a compulsory thing to do. Most importantly. we must continue to make the most of every moment now.
THE FIRST YOU ARE GOING TO DO AS SOON AS THE PANDEMIC ENDS?
SHOPPING! am not an online shopper. I like the whole process of going to the store, trying new clothes, and spoiling myself with new clothes and shoes. As soon as this and am going to take a long vacation to my favorite cities like Mumbai and London and go on a shopping spree.