Triveni Diagnostics Center and Medlife Super specialty hospital are being launched. They are located in the heart of the city, Telibandha Raipur. This healthcare center will be inaugurated on December 11, 2022.
Triveni Diagnostics is a clinical investigation Services provider of world-class diagnosis services at the most affordable costs while Medlife is a 100-bed advanced-care hospital with best-in-class healthcare facilities.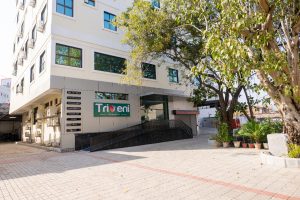 About Triveni
All their services are in pace with the digital world, from fully-automated pathology to the online transfer of reports. Triveni is located at the heart of the city, Telibandha. As Triveni offers all the clinical investigations at a 50% discount. It has MRI, CT scan, 5D Sonography and Mammography, X-Ray, Pathology. and many more . A distinguishing feature of the newly launched diagnostic center is its digital presence. the patients will get all the images and reports via SMS and Whatsapp. The diagnostic services will be available 24*7 including Sundays to waive the delay in delivering reports. The medical team has qualified doctors from the best institutes. It comprises the director Dr. Anand Bansal (Radiologist), Dr. Swati Agrawal (Ophthalmologist), Dr. Vikas Agrawal (Medicine), Dr. Barkha Agrawal (Paediatrician), Dr. Abhijeet Tiwari (Radiologist), Dr. Ruchi Sharma Tiwari (Pathologist).
Triveni Diagnostics is the outcome of three like-minded people, Dr. Anand Bansal, Mr. Akash Agarwal, and Mr. Mayank Agarwal with the sole motto to serve society at an affordable price without any compromise in quality.
About Medlife
Medlife is a 100-bedded super specialty hospital. It has the facilities of 25 bed ICU, modular operation theatre, and critical care unit. The hospital has specialized departments of neurosurgery, gynecology & obstetrics, internal medicine, anesthesia & critical care, urosurgery, dermatology & cosmetology, pulmonology, orthopedics, pediatrics, gastroenterology, burn & plastic surgery, oncology, and others. The highly qualified and specialized doctors of all departments will be available full-time for their services. The hospital accepts all kinds of health cards and government-aided health policies like ayushman cards. All the treatments at the hospital are available at the most affordable cost.
The hospital is in association with "Tera hi Tera Kalyan Society." The society will fund the treatment of underprivileged patients.